Your Source for Non-Dues Revenue
Atlantic Communications Group, Inc. designs, produces, publishes and delivers award-winning Image Books, Maps, Directories, Quarterly Magazines, Newsletters and Annual Reports — in print and online — exclusively for Chambers of Commerce, county governments and municipalities.
Whether you prefer print, online or both, we'll create a custom product you'll be proud to distribute.
Maximized Value. You'll be pleased to know our printed publications are top-of-the-line. And, you receive a complimentary online version as an added benefit you can offer your members—at no cost to you!
Online Editions. Prefer online only? Be sure to ask us about our online books, magazines and brochures. Specifically designed for quick and colorful online reading and interactivity, these publications include links, tracking, reporting and more. Our online editions continue to enjoy increased readership and reader loyalty.
Revenue for Your Chamber. Atlantic's publications generate non-dues revenue for the over 150 Chambers of Commerce we regularly serve across the country.
Expertise you can count on. Your Chamber and its members are our focus. We've been publishing for Chambers since 1988. Put our expertise to work for you!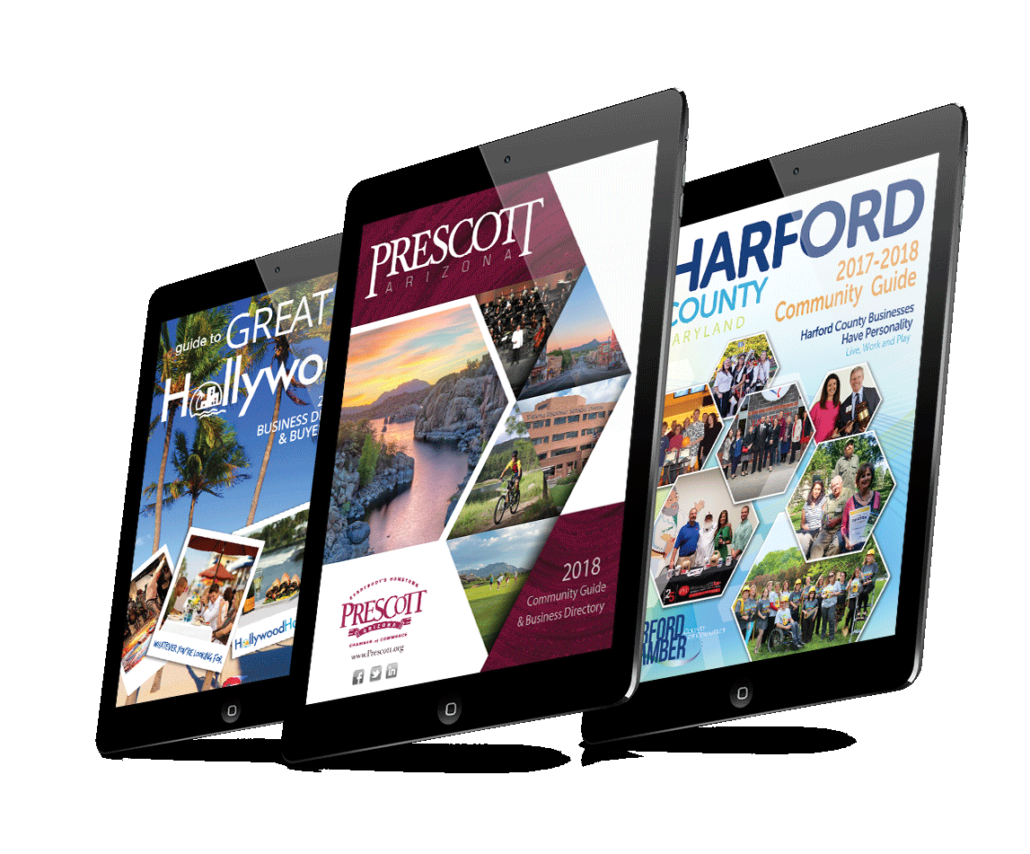 Customized  publications
– IN PRINT & ONLINE –
the way you want.
Some of Our Latest Publications…
Two reasons we enjoy working with Atlantic: their professionalism with our members and the quality of the end product. It is truly a mutually beneficial business relationship for the Greater Pocono Chamber.
Thank you all for a tremendous job from start to finish on Prescott's 2015 book. You did everything you promised and completed it on time (actually, a little ahead of time!). The book looks great and I can't wait to hear the reaction from our members!
Our sincere thanks to Atlantic for your work and support of the Southern Chester County Chamber to produce this beautiful and useful book. Plus, the Annual Report and Chamber Marketing Brochure supplements are a big hit. We are thrilled and love the books!
Thank you for doing a great job with the layout of the book! We look forward to displaying the online version on our website.
















We've proudly been serving Chambers of Commerce, county governments and municipalities for nearly three decades. Versatile and innovative, Atlantic pays attention to client's needs and responds with solutions.
We put our expertise to work helping our clients meet their business and promotional goals with products that attract, inform and impress.
We began operations at Fifth and Chestnut Streets in the historic section of Philadelphia, with a staff of five. Now at our current location in Flourtown, Pennsylvania, less than an hour's drive from Philadelphia, we have expanded our talented team of experienced graphic designers, web designers, production specialists, cartographers, database managers, editors, and sales personnel.
Managed growth has played a key role in our success, ensuring that personal service, quality and attention to detail are never compromised.